"Say pal, you don't look so good. You better find something to eat before night comes."
Well, I guess it could have gone worse, but really can't see how. I don't know where I am, where to go, what to do. I have no food, no supplies, no nothing. The best I can do, I presume, is at least hold an account of my misfortune so some poor soul gets to share it with me.
I dont really know what to do. Collecting odd ends, like grass, sticks and pieces of flint. The whole area is kind of grassy and full of flowers. In fact, spent the entire afternoon picking flowers. That may have been a tad unproductive, but damnit, they look fabulous on my head.

Fabulous
Aside from that I crafted me some crude tools for chopping and chipping. The axe in particular came in handy to make a small campfire.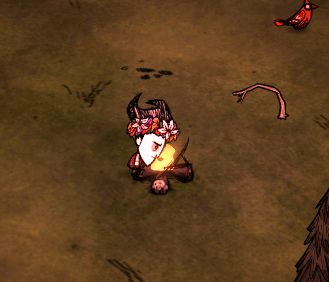 Murderous
Decided to start looking for a good place to set up a camp after the night. Not gonna give up until I find me som- Ohhhh, berries!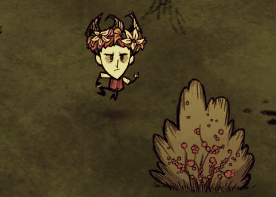 Delicious devils
Pretty well stocked on berries and carrots for now. The fear of starvation is averted. Aside from that, I see some ponds around here.
Might as well check them out.
Wait, what the sweet christ is
that
thing.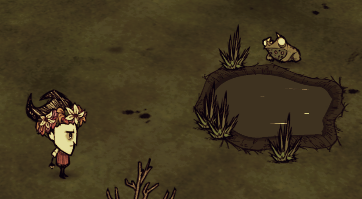 ..is that a mouth on top of it?
Yeeeah, not too keen on demonic frogs. Scouted west parts instead. Rocky lands. Might as well do some mining.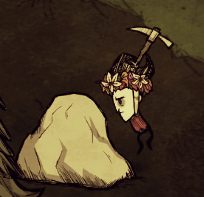 My mining craft coming in handy
And lookie here, could it be? Yes! Nuggets, bars, bullion, aurium!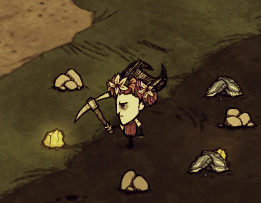 GOOOOOLD
Nice. At least I will die rich.
Afternoon, spent the day walking around looking for everything. Found a weird home. Weird plants.
And a crank.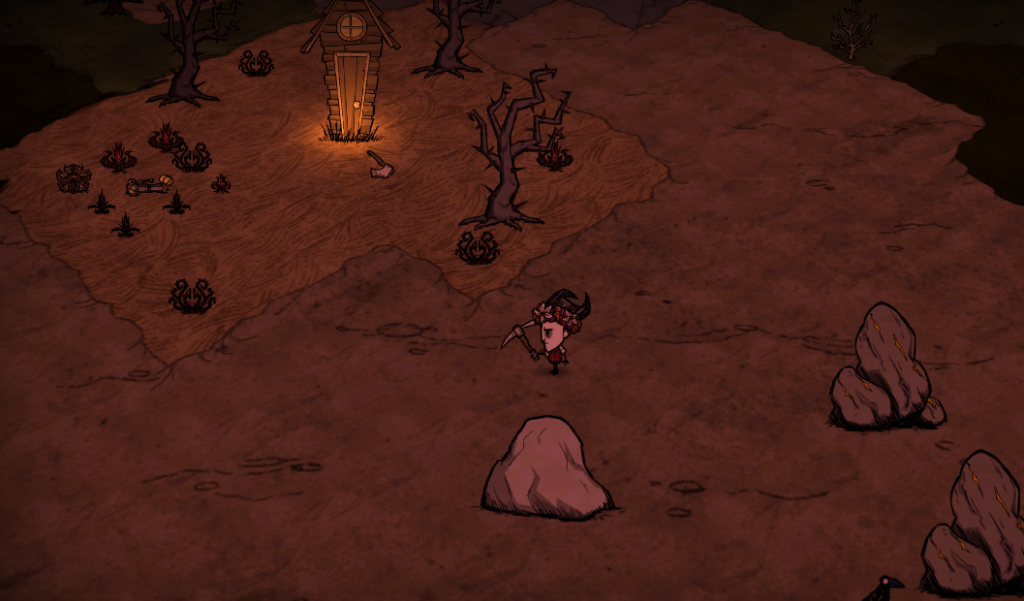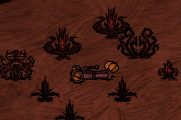 I dont even know
Stuffed the weird thing and went further west. After a small walk I was upon a nest, occupied by some sort of feathery, black ball. I guess I could get closer and see what woud happ-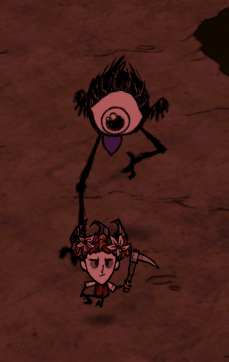 Fuck you, Darwin.
Jesus, why are you chasing me, what have I ever done to you? Go get hit by a lightning or something. That's enough for today. Setting up a campfire.
I guess if there's some silver lining to this, it's all the gold deposits around here. Seriously, shit is so cash.

Swag
Too bad west is a dead end. Guess I have to backtrack and try east. Hmmmm, but before I do that...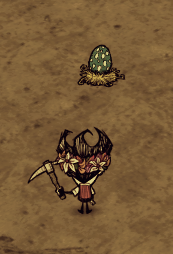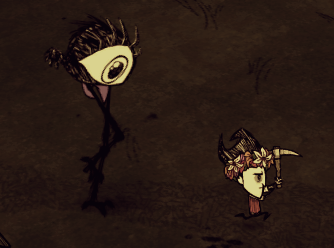 Yoink
That was rather persistant. Chased me half across the continent for that egg, right into a graveyard.
2spooky
Followed the path south. Apparently I wasn't the first one to.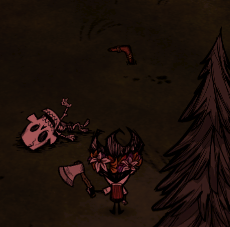 Well, free boomerang
Not much down there aside from that. Well, alot more birds, but I had enough excitement for today. Darkness is encroaching.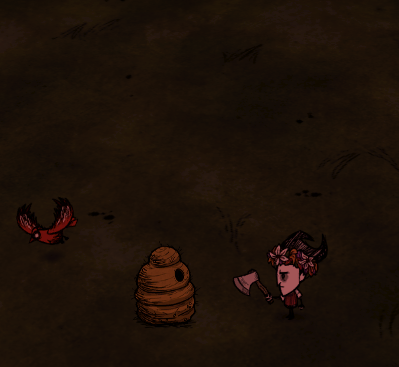 Guess I can camp here for now.
Continued my trek through the nothingess. Found a weird sort of ruins ...with a garden gnome inside.
There was also some weird box contraption thing. Looks like it might go with that crank thing. Picked it up just to be sure.
Also made a nifty grass outfit. Itches like hell though.

Sexy beast
Aside from that, nothing. At all. Gathered food, stones, wood, but still no sign of anyone else or any particularly favorable spot for camping. There's some large structure nearby. I think I'll go check it out.

See you in your dreams.
No. Nope. No. Camp time. Preferably far away from giant spider dens.
...
Did alot more walking around, searching, collecting. The isolation is kind of bearing on me. I think I'm starting to hear voices. But then it just turns out to be the wind. Or at least I think that's it.
Found another weird thing, this time a large ring. I'm not sure, but I think there might be something supernatural about it.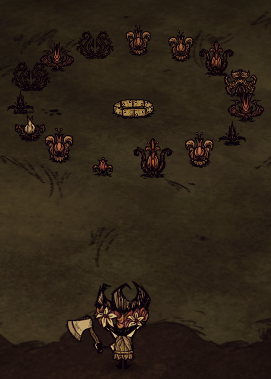 Whatever would give you that idea.
Starting to get frustrated. Nothing in sight but marshes. Everyone knows marshes are terrible.
I'm not kidding I'm walking around so much, I start to imagine noises.
Wait, I'm not imagining those. There's some commotion going on.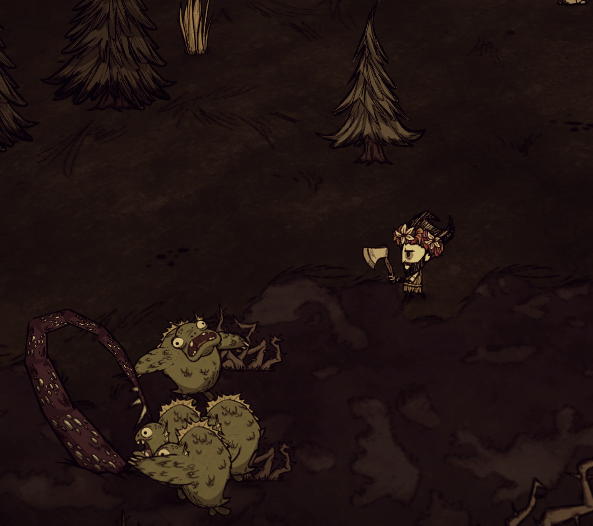 "There's only room for ONE schoolgirl-molesting species around these parts!"
Decided to not get involved and wait. The mermen got out on top. Managed to get in and snag tentacle's spike before making off.
But seriously, this swamp is just not ending. It's dark, my pockets are full, I've got barely any food. Could it get any worse?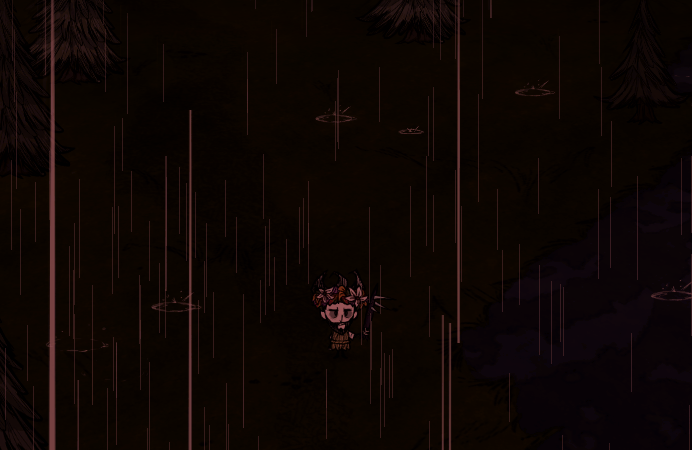 I hate everything.
...
These bogs are endless. I can't get out.
Yet somehow. Some insane bastard. Somebody thought it was a good idea to set up farm here.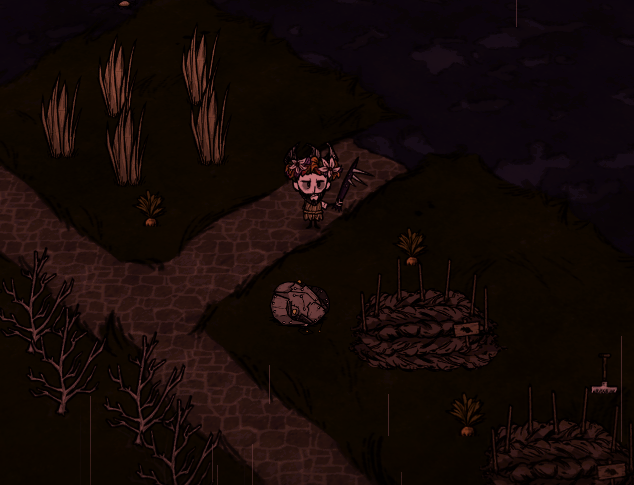 Oh, also a metal potato head. Perfectly normal.
You know what, screw this. Setting up camp here, fire pit and everything. Even a science machine and a damn backpack.
Im sick of not being able to carry everything.
In fact, those useless things, the crank, the box and the ring. Im just dumping them here.
...
...I can just feel it. I'm not crazy. Something is watching me.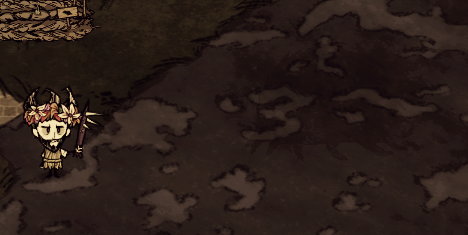 ...
God... I'm regretting to have set up a camp there already. There's no nearby wood for the fire, just thorny thistles and tentacles. Neither is really flammable. There's one unexplored area in the north, putting my chips on it.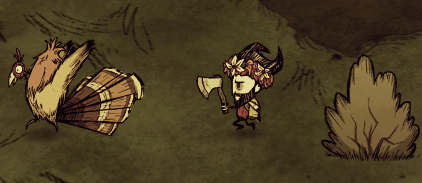 Walking food.
Well, hot damn, this area seems to be much more hospitable. I'm feeling much better as well.
Found a green mushroom. A decent antidepressant.
Wait, what is that thing.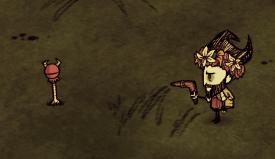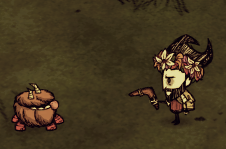 Otto von Chesterfield, Esquire.
A mobile storage dog... thing. I'm beyond wondering about it.
A stroll up a road to the north and I have finally found it!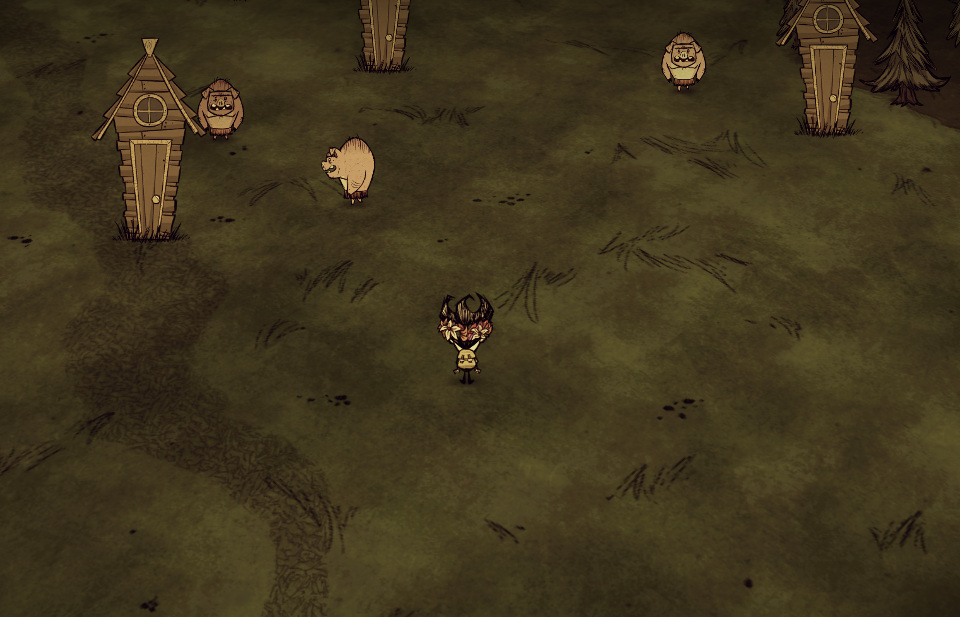 Civilization!
Amazing! Finally, some company!
Well, ok, maybe not. They don't seem to be very sociable.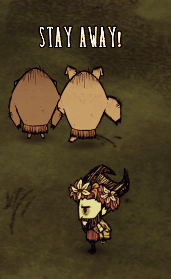 Pft, next you'll say I look like a crazy hermit.
This fellow looks alright though.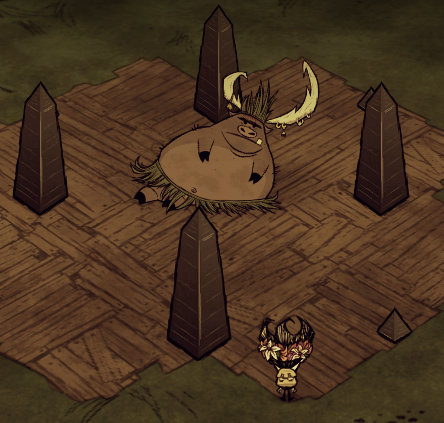 "Bring me Han Solo."
Yeah, Im convinced. I'm setting up camp here. Next day, I will scout out the outskirts.
...
OH GOD WHY, THE OUTSKIRTS HERE SUCK.
It's full of spiders! I found some decent loot in the very north, like a blow dart and some meat.
Saw a pig try to fight off a nest of spiders. It did not work.
Also decided to exhume a grave for some riches. Instead found some old dentures.
Oh, by the way, did I mention the spiders!?
Not shown: MILLION MORE SPIDERS.
Screw it. I'm burning their hives down. PURGE IT WITH FIRE!
PURGE IT WITH FIRE!
PURGE IT WITH FIRE!
PURGE IT WITH FIRE!
PURGE IT WITH-
oh crap.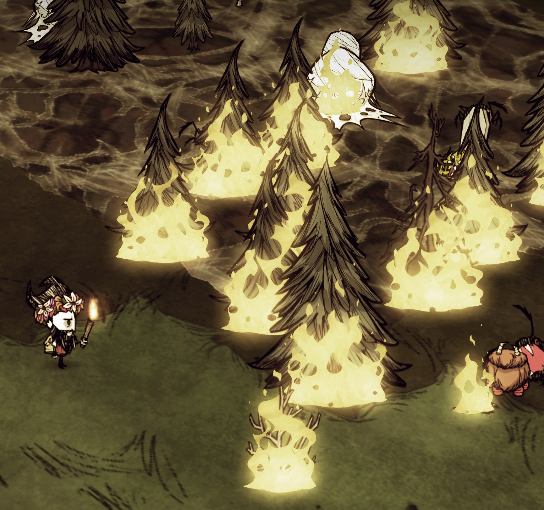 Um, whoops?
Well, that wasn't planned. But I guess I have alot of ashes and charcoal now.
Back home the pig king has taken a notice of the dentures and let me know that he'd like to have them.
I'd almost give him them for free, but...
Greed is good.
I like this fellow.
Well, with all said and done, this camp is up and I'm all sorts of well stocked. Time to jam.
Hella jammin'
Results: